30 March 2012
Doagh Silver Surfers Graduate!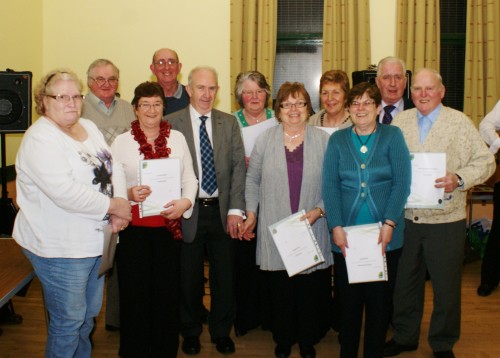 Doagh Silver Surfers are awarded their Computer Skills Certificate
Twelve "senior"members of the Doagh community successfully completed a 12 week computer and internet skills course on 7 December 2011.
Their certificates were presented by Ald. Jim Bingham at Doagh's annual St. Patrick's Night Social at the Torrens Hall on Saturday evening.
The people in the photo, left – right: Marion Burgess, William Burgess, Lavinia Mills, David Clarke, Ald. Jim Bingham. Alice Andrew, Jean Boyd, Hughalina Gault, Pauline Henderson,
James Campbell, Leith Burgess. (2 others not in photo: Pat Burgess and Kay Hall.
Alderman Bingham congratulated the graduates on their achievement at having the enthusiasm and commitment necessary to successfully complete their course and he also remarked on the fact that the project was a community led initiative which involved so many people from the local community.
He also congratulated 4 other members of the Doagh Village Community association who were recently awarded certificates of achievement at Newtownabbey Borough Council's award ceremony in Mossley Mill on Thursday night.
DVCA expressed their gratitude to NBC and Doagh Primary School for the very practical support necessary in organising and financing the course. They also announced that the next silver Surfer's course will begin on Wednesday 21 March and this will run until June.
Names have already been received for those wishing to attend a third course which will begin in September 2012!