14 December 2009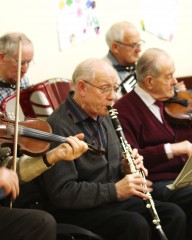 A superb charity fund-raising evening of "Music and Craic" took place at St Bride's Parish Church Hall, Doagh on Saturday evening, 12 December. It was hosted by the Premier Accordian and Fiddle Club with a variety of guest performers. The guest artists were the inimitable Tom Andrew, Wilfie and Isobel Crowe and Norman Cairns (on banjo and cello, but not at the same time!)

MC for the evening was David Ray of the Ray Brothers from Holestone, both are members of the Premier Accordian and Fiddle Club.

The performances were an enchanting mixture of toe-tapping music, comedy, much loved songs and hilarious monologues.

At the interval for refreshments there was a raffle for a huge variety of prizes donated by many well-wishers and supporters.

The concert came to an end with a song from a guest player with the Premier Accordian and Fiddle Club, Michael McCullough. He sang unaccompanied and seated from the back of the band. It was a really poignant performance. You could literally have heard a pin drop! He used his beautiful mellow voice to give a rendition of the song "A Silent Night Christmas 1915", a description of events as the unrelenting noise and carnage of battle ceased on Christmas Eve 1915. A young German soldier sung "Silent Night" as the other soldiers from both sides joined in. The original recording however fails to capture the palpable, hushed and reflective atmosphere on Saturday night as people listened to the words and message of the song.

There are a few photographs taken at the concert in the blog's albums at the side. This should revive the memories of anyone who attended.

Another evening of "Music and Craic" will take place in the early spring. I would urge you to attend, you'll love it!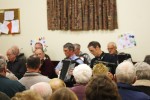 30 October 2009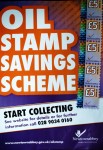 Newtownabbey Borough Council has introduced a practical scheme which will allow people to save up for their heating oil by purchasing Saving Stamps at a minimum value of £5. These can be collected in a stamp savings book and used to help pay for expensive heating oil bills.

This is a similar scheme to the "Electric Stamp" scheme some years ago which was found by many to be a beneficial way of easing the strain of having to pay sizable energy bills. We are not sure about the "best value" companies on the list below. It may still be wise to phone around before purchasing your oil.
Outlined below are the contents of the latest poster which has been released to introduce developments in the scheme. More information can be found on the Newtownabbey Borough Council website, details of which are at the bottom of the poster:-




Are you short of ideas for Christmas presents?

Why not give someone you know oil savings stamps for Christmas.
Newtownabbey Borough Council
, together with local shops and oil companies, runs an Oil Stamp Saving Scheme. The scheme allows householders to budget towards the cost of their home heating oil. The £5 oil stamps can be bought from a range of outlets across the Borough. The stamps are then attached to a stamp card and can be used as full or part payment for oil
In the greater Doagh area, oil stamps, stamp cards and special Christmas gift envelopes are available at:-

Burnside Stores, Burnside
XL Stop & Shop, 16 Main Street, Doagh
Spar, (Ballyclare Milestone) 91 Templepatrick Road, Ballyclare
Sixmile Leisure Centre
The Paper Shop, The Square, Ballyclare
Davey's, 4 Ollardale Park, Ballyclare.

The Council's Promotional Trailer will be in attendance at the switching on of the Doagh Christmas Lights on Wednesday 25th November where more information will be available.


The oil companies which will accept Newtownabbey Borough Council oil stamps are:
Kelly Fuels 1 Lombard Street Belfast Co. Antrim 028 90261500
Hayes Fuels 50 Ballyutoag Road Belfast Co. Antrim 028 87761523
Eastside Fuels 17 Lisnalinchy Road Ballyclare Co. Antrim 028 93344425
Redon Fuels 205 Doagh Road Newtownabbey Co. Antrim 028 90365440
Meekin Fuel Group Meekin Industrial Park Templepatrick Co. Antrim 028 94432417
W&M Lorimer Fuel Distributors 1c Largy Road Crumlin Co. Antrim 028 94422224
Watt Fuels 60 The Burn Road Doagh Ballyclare 028 93322450
Young Fuels 91 Lisburn Road Glenavy Crumlin 028 94422071
Richard Lee Fuels 117a Ballymena Road Doagh Ballyclare 028 93342059
Taylor Fuels 23A Ballylinney Road Ballyclare Co. Antrim 07710 803445
Stephen Morris Fuels 123 Lylehill Road Templepatrick Co Antrim 028 90835939
D E Andrews 326 Crumlin Road Belfast Co. Antrim 028 90749595
WR Kennedy Fuels 27A Pennybridge Ind. Est Ballymena Co. Antrim 028 25656616
Finlay Fuels 170 Moneyrea Road Ballygowan Co. Down 028 97528332
For further details on the scheme including a full list of oil stamp outlets please contact Newtownabbey Borough Council on 028 9034 0160 or visit www.newtownabbey.gov.uk/oilstamp.
29 October 2009


Melanie Johnston (Soprano)
  Emma Gibbins (Piano) strong>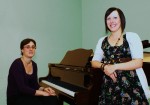 "AUTUMN CONCERT 2009" strong>
Last year saw the beginning of the Autumn Concerts Doagh. The four original concerts were organized by Doagh Village Community Association to mark the 50th Anniversary of the Newtownabbey Borough. The performances were so enjoyed by those who attended that the Association have committed themselves to make the concert an annual event.

The aim of staging the events here in Doagh is to provide high class performances locally thus making it much more convenient for the local community to attend without having to travel long distances to enjoy superb live entertainment.

Last autumn we collaborated with our partners from Mont-Dol and Dol de Bretagne in Brittany who arranged for two accomplished artists, pianist and singer Thibaut Guillois and Beatrice Tronel, to give concerts here in Doagh. Several of us visited Brittany to attend their series of "Musicales Hivernales". Having seen the impact this was having in another rural community similar to Doagh we felt that repeating this initiative here would be of great benefit to our own community.

For the first concert this year we have managed to attract a truly gifted local singer to open our season. She is Melanie Johnston who presently lives in Ballyclare. Her mother Norma, who is also a singer, actually lives here in Doagh! Melanie will be accompanied by Emma Gibbins, an accomplished pianist who is presently the Director of Music at St George's Church in the center of Belfast. The concert is supported by the Arts Council for Northern Ireland and Newtownabbey Borough Council