17 March 2013
DVCA St Patrick's Social and Stew Night, Saturday, 16 March 2013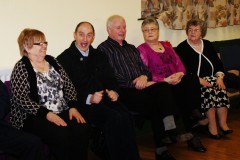 The DVCA St Pat's Stew Night and Social was as usual a successful event held in the Torrens Hall.
The steaming hot Stew and Apple Tart and Cream were especially welcom on what turned out to be a bitterly cold evening.
However the stew followed by an hour or two's dancing soon warmed people up and everyone forgot their inhibitions, let their hair down and enjoyed the craic for the rest of the evening!
Music was as usual provided by the Country Fiddlers who played just the right music and created the atmosphere necessary to make the evening a resounding success.
Proceedings ended with the usual draw for prizes donated by DVCA members and by regular attenders at the functions.
Photographs can be viewed in the Gallery in the left-hand column.