15 December 2013
Doagh Senior Citizens' Xmas Dinner and Social 2013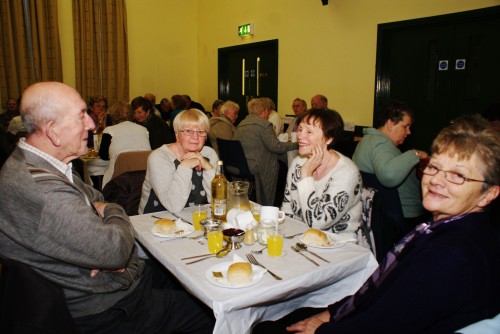 Doagh Village Community Association has once again hosted its very popular Senior Citizens' Christmas Dinner and Social 2013. It took place on the afternoon of Saturday 14 December 2013 in the Torrens Memorial Hall in Doagh. There was a record attendance of guests, who numbered over 100 people including a team of enthusiastic and hard working volunteers, most of whom were also senior citizens!! All of this despite howling gales outside and road closures which were necessary due to road re-surfacing.
A full 4 course dinner was served which was cooked on the premises. This was:
Vegetable Broth, Turkey and Ham with all the trimmings, Christmas pudding, Apple tart or Pavalova and coffee/tea and mince pies.
The volunteers who included MLA Danny Kinahan, NBC Councillor Jim Bingham and Duke of Edinburgh Award volunteer Olivia Andrew plus staff members of the South Antrim Community Network slaved away serving meals and washing the mountain of dishes which seemed to be never ending!!!
Music was supplied by the Country Fiddlers who are very popular with those who attend and have grown to learn the musical preferences of local people.
There was the usual Christmas Ticket Ballot which was drawn for the table full of prizes, all provided by local people and businesses.
The DVCA committee would wish to thank the contractors for adjusting their timetable to allow access to the hall, Doagh Primary School for providing parking and Newtownabbey Borough Council and local businesses for their support.