30 October 2009
HEATING OIL STAMPS SAVING SCHEME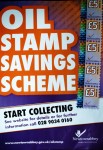 Newtownabbey Borough Council has introduced a practical scheme which will allow people to save up for their heating oil by purchasing Saving Stamps at a minimum value of £5. These can be collected in a stamp savings book and used to help pay for expensive heating oil bills.

This is a similar scheme to the "Electric Stamp" scheme some years ago which was found by many to be a beneficial way of easing the strain of having to pay sizable energy bills. We are not sure about the "best value" companies on the list below. It may still be wise to phone around before purchasing your oil.
Outlined below are the contents of the latest poster which has been released to introduce developments in the scheme. More information can be found on the Newtownabbey Borough Council website, details of which are at the bottom of the poster:-




Are you short of ideas for Christmas presents?

Why not give someone you know oil savings stamps for Christmas.
Newtownabbey Borough Council
, together with local shops and oil companies, runs an Oil Stamp Saving Scheme. The scheme allows householders to budget towards the cost of their home heating oil. The £5 oil stamps can be bought from a range of outlets across the Borough. The stamps are then attached to a stamp card and can be used as full or part payment for oil
In the greater Doagh area, oil stamps, stamp cards and special Christmas gift envelopes are available at:-

Burnside Stores, Burnside
XL Stop & Shop, 16 Main Street, Doagh
Spar, (Ballyclare Milestone) 91 Templepatrick Road, Ballyclare
Sixmile Leisure Centre
The Paper Shop, The Square, Ballyclare
Davey's, 4 Ollardale Park, Ballyclare.

The Council's Promotional Trailer will be in attendance at the switching on of the Doagh Christmas Lights on Wednesday 25th November where more information will be available.


The oil companies which will accept Newtownabbey Borough Council oil stamps are:
Kelly Fuels 1 Lombard Street Belfast Co. Antrim 028 90261500
Hayes Fuels 50 Ballyutoag Road Belfast Co. Antrim 028 87761523
Eastside Fuels 17 Lisnalinchy Road Ballyclare Co. Antrim 028 93344425
Redon Fuels 205 Doagh Road Newtownabbey Co. Antrim 028 90365440
Meekin Fuel Group Meekin Industrial Park Templepatrick Co. Antrim 028 94432417
W&M Lorimer Fuel Distributors 1c Largy Road Crumlin Co. Antrim 028 94422224
Watt Fuels 60 The Burn Road Doagh Ballyclare 028 93322450
Young Fuels 91 Lisburn Road Glenavy Crumlin 028 94422071
Richard Lee Fuels 117a Ballymena Road Doagh Ballyclare 028 93342059
Taylor Fuels 23A Ballylinney Road Ballyclare Co. Antrim 07710 803445
Stephen Morris Fuels 123 Lylehill Road Templepatrick Co Antrim 028 90835939
D E Andrews 326 Crumlin Road Belfast Co. Antrim 028 90749595
WR Kennedy Fuels 27A Pennybridge Ind. Est Ballymena Co. Antrim 028 25656616
Finlay Fuels 170 Moneyrea Road Ballygowan Co. Down 028 97528332
For further details on the scheme including a full list of oil stamp outlets please contact Newtownabbey Borough Council on 028 9034 0160 or visit www.newtownabbey.gov.uk/oilstamp.