24 November 2010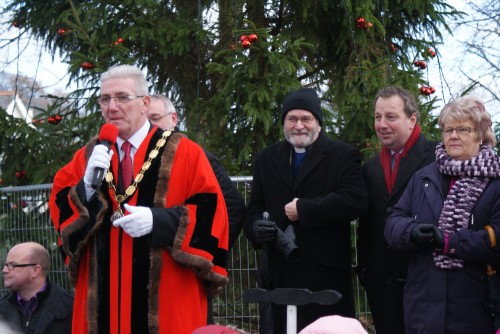 Wednesday, 24 November 2010.
Doagh Christmas Tree lights were switched on following a short service which took place in the village square.
The three Doagh clergymen conducted the service and the Deputy Mayor, Cllr Tommy Kirkham gave a goodwill Chtristmas Message from Newtownabbey Borough Council. MLA Danny Kinahan also attended with other NBC Cllrs. Vera McWilliam, Jim Bingham and Etta Mann.
Two pupils from Doagh Primary School assisted Cllr Kirkham to "switch on" the lights and the crowd were treated to a christmas Carol sung by the Primary School choir.
It was a cold morning and unfortunately it rained heavily during the ceremony. However the rain ceased and the sun came out with the arrival of Santa Claus bearing his sack full of presents for the children.