12 December 2010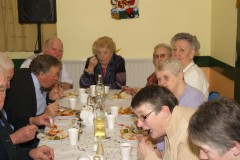 Doagh Senior Citizens' Christmas Dinner and Social
On Saturday, 11 December 2010, Doagh Village Community Association again celebrated its annual Christmas Dinner and Social for the village's senior citizens.
The event held in the Torrens Hall was well supported as ever. Those who attended were treated to a 4-course Christmas Dinner followed by music, dancing and entertainment provided by members of the ever popular "Grouse Beaters" accompanied by local harpist and fiddler, Susan Bates.
The evening concluded with a huge raffle for a vast array of prizes, all donated by local individuals and businesses. The main DVCA Christmas Raffle was also drawn for major prizes which included a Child's Cycle from Chain Reaction Cycles, A Four-Ball Voucher for Ballyclare Golf Club, a shopping voucher for B&Q and a bottle of Whiskey.
DVCA would like to express its sincere thanks to all of the major sponsors for their generosity and continued support for the work of the Association. They would also wish to thank Newtownabbey Borough Council and the Management of the Torrens Hall for their help.
Local MLA, Danny Kinahan, attended and offered his services for the entire event as a work- horse and volunteer. He expressed his delight at being able to help and in having the privilege to meet with such a happy bunch of people. He'd had the opportunity to talk with many of the village's senior citizens about issues which really affected them. In his role within Stormont and the Office of the First and Deputy First Minister the information he gleaned was invaluable. He encouraged local people not to hesitate to use his offices for help. Danny's practical help and contribution to the day was greatly appreciated by the DVCA committee.