26 November 2011
Doagh Christmas Tree Lights Switched On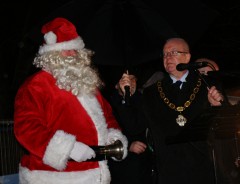 Santa Claus visited the village of Doagh on Thursday 24 November 2011 to help with the switching on of the Christmas Tree lights. The job was done, and Santa distributed his presents to the young people gathered around the tree but in the miiddle of the commuunity Christmas Carol singing te heavens opened!
However the torrential rain didn't seem to dampen the spirits of the large crowd who attended the ceremony. Newtownabbey Borough Council's platform party, especially the two clergymen and the Deputy Mayor pressed on regardless and the lights were swwitched on by two local children. The Carol singing was led by some Chior members from St Bride's Parish Church and their organist, Mark. Seasonal music was provided by a willing band of musicians. The short service, celebrating the Gift of Christmas, combined with Santa's visit and the singing madee the occasion a memorable occasion. This is the first time that the light switching on ceremony had taken place at night. It was by far the largest turnout with a marked increase in thhe number of men attending, who would otherwise have been at work during the daytime switching on ceremonies of the past. All in all it was a real "Family Affair".
Because of the bad weather the next part of the proceedings was transferred to the Torrens Hall. The two village Chip Shops, Cornerstone Cafe and Cafe Thornton, delivered warming portions of chips to the families who had gathered there and Doagh Village Community Association provided seasonal Mulled Wine and soft drinks. All of this was just what was required to warm up the drookit, shivering villagers.
The event was really well received by those villagers who managed to attend the proceedings. The overwhelming feedback would indicate that the evening "Switch On" combined with the supper afterwards was a positive way forward that should be repeated in future years. It was originally planned that the Mulled Wine and chips would be served in the square, but "Plan 2" had to be put in operation and proceedings were transferred to the Torrens Hall because of the heavy rain.