25 November 2009
SWITCHING ON CEREMONY FOR DOAGH CHRISTMAS TREE LIGHTS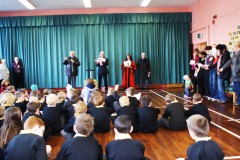 Doagh Christmas Tree Lights were switched on today from a "remote" location. Just before the ceremony was scheduled to begin a decision was made to move the proceedings indoors to the Assembly Hall of Doagh Primary School. This was done to protect the audience and officials from the cold, blustery November weather.

The ceremony started with a short service conducted by local clergy and this was followed by a medley of Christmas songs and carols sung by the school choir.

The Deputy Mayor, Alderman P Bradley, ably assisted by three pupils pushed down the "Remote Plunger" which magically illuminated the Christmas Tree Lights in the square beside the Post Office.

Proceedings ended with the arrival of Santa Claus to the enthusiastic strains of "Jingle Bells". Each child attending received a gift from the popular figure.