13 December 2009
DVCA Senior Citizens' Christmas Dinner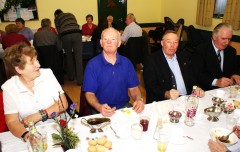 On Saturday afternoon, 12 December 2009, Doagh Village Community Association was host to the village's senior citizens for their annual Christmas Dinner and Social. The event, held in the Torrens Memorial Hall in Doagh, was attended by Senior Citizens from throughout the village and surrounding area. The venue was filled to capacity by guests keen to begin celebrating the Festive Season.

Having enjoyed a traditional 4-course Christmas meal, the guests were treated to a visit from their fellow Senior Citizen, Mr. Santa Claus, who brought with him DVCA's best wishes for a Happy and Peaceful Christmas and New Year.

A few willing volunteers joined the DVCA in making sure that the guests enjoyed their meal. They also fully engaged in the back room mammoth task of washing and drying the mountain of pots, pans and dishes! The volunteers, Whose support was so greatly appreciated, were Dr William McCrea, MLA Trevor Clarke and Alderman Paul Girvan.

The entertainment was provided by members of The Grouse Beaters, joined by local fiddle player and harpist Susan Bates. Dr McCrea also gave a few of the songs he would be performing later that night in Ballyclare at the Praise Service for the forces presently serving in Afghanistan and in other conflict situations.

The DVCA Chairman, Leith Burgess, thanked everyone who contributed resources, time and energy to making the event so successful and enjoyable for everyone who attended.

The association also launched its plans to Provide Christmas decorations throughout the village to give the main street a more festive appearance. These decorations have been manufactured by association members from readily sourced materials. They will be sited in prominent places throughout the village. Hopefully the simple construction employed will encourage local people to repeat the process and contribute by making their own similar decorations. The final work required to put the decorations in place will be completed during Monday 14th December.