14 December 2009
Night of "Music & Craic" at Kilbride Parish Church, Doagh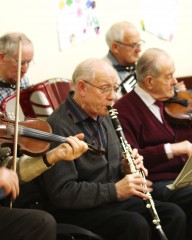 A superb charity fund-raising evening of "Music and Craic" took place at St Bride's Parish Church Hall, Doagh on Saturday evening, 12 December. It was hosted by the Premier Accordian and Fiddle Club with a variety of guest performers. The guest artists were the inimitable Tom Andrew, Wilfie and Isobel Crowe and Norman Cairns (on banjo and cello, but not at the same time!)

MC for the evening was David Ray of the Ray Brothers from Holestone, both are members of the Premier Accordian and Fiddle Club.

The performances were an enchanting mixture of toe-tapping music, comedy, much loved songs and hilarious monologues.

At the interval for refreshments there was a raffle for a huge variety of prizes donated by many well-wishers and supporters.

The concert came to an end with a song from a guest player with the Premier Accordian and Fiddle Club, Michael McCullough. He sang unaccompanied and seated from the back of the band. It was a really poignant performance. You could literally have heard a pin drop! He used his beautiful mellow voice to give a rendition of the song "A Silent Night Christmas 1915", a description of events as the unrelenting noise and carnage of battle ceased on Christmas Eve 1915. A young German soldier sung "Silent Night" as the other soldiers from both sides joined in. The original recording however fails to capture the palpable, hushed and reflective atmosphere on Saturday night as people listened to the words and message of the song.

There are a few photographs taken at the concert in the blog's albums at the side. This should revive the memories of anyone who attended.

Another evening of "Music and Craic" will take place in the early spring. I would urge you to attend, you'll love it!