09 March 2010
DVCA Winter Concert 3 March 2010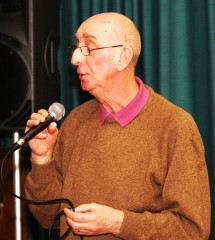 On Wednesday evening Doagh Village Community Association presented its final concert in this year's program. This took the form of a Variety Concert starring local celebrities Northern Ireland as well as talented performers from South-East Antrim.
The show was compared by the multi-talented comedian, Terence McKeag, who introduced to the delighted audience a wide variety of acts, which included performances from singer Kenny Archer, Ulster Scots folk group, Bracken, Pipers and Drummers from the Major Sinclair Memorial Pipe Band, the very talented local Holestone duo, The Rea Brothers and a guest performance by the fabulous singer Doagh, Davy Clarke.
The concert was held in Doagh Primary School and was well supported by a large local audience.
The aim of the concerts is to bring high quality live music right into the heart of Doagh and South-East Antrim and so make it easily accessible to the large rural population and to the many people living locally who find it impossible to enjoy such performances close to home. This would help them avoid the great expense involved in having to travel to larger venues in the cities or larger towns. There are of course a growing number of new theaters opening up to these can be difficult to reach in the evenings without access to personal transportation. Performance at these venues tend to be quite expensive, as those who run them are faced with having to cover the high costs involved. Locally run events can be organized and managed much more economically and with the generous backing and support of artists as well as sponsorship of organizations such as Newtownabbey Borough Council and the Arts Council for Northern Ireland many more people can enjoy first class music in their own communities at a fraction of the cost. They can also enjoy the fellowship of meeting with their neighbors and friends.
So far the concerts run by the DVCA have included all types of performances from classical to folk and country, thus giving a wide choice to those living in the area.
The quality and success of the concert has now become more widely recognized and this is reflected in the fast growing audiences attending each of the events.
Doagh Village Community Association intend to expand their concert program next Autumn and Winter and perhaps increase the number and variety of concerts given.
The Association for the measure of satisfaction they have had in organizing the events has been reflected in the growing number of people who have attended the concerts. All of the work done in the organization and management of the programs has been done by DVCA members themselves. However without the continued support of the community the purpose of their work would not be so worthwhile.
The next concert is planned for early Autumn of 2010. Details of this will be announced at the end of the summer.