14 March 2010
DVCA IRISH STEW NIGHT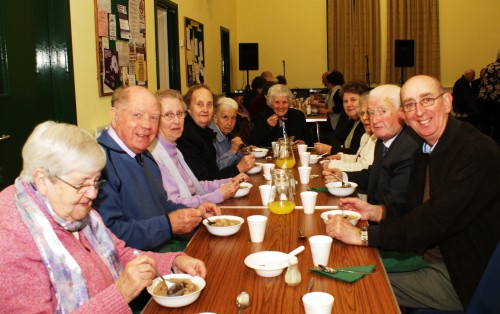 Doagh celebrate St.Patrick 's with an "Irish Stew Night"
Senior Citizens in Doagh celebrated the nation's patron Saint's Day with their annual Irish Stew Night organized by Doagh Village Community Association. Everyone there enjoyed a traditional bowl of hot stew followed by apple tart and fresh cream. The rest of the evening was left in the hands of members of the famous "Grouse Beaters" and a demonstration of Irish dancing was given by local girls Kerry and Kirsty Jordan. Kirsty is a current world champion and Kerry danced for a time with the famous show "River Dance". Both girls belong to local folk group, "Bracken, who entertained the Doagh Community at last week's successful DVCA Variety Concert.
All who attended the Irish Stew Night in the Torrens Hall really got into the spirit of things by dancing the rest of the evening away to the toe-tapping music of the Grouse Beaters.
The celebration marked the penultimate feature on this year's calendar. The last event takes place on 19 May 2010. A "Magical Mystery Tour with a Difference" has been organized for Doagh's Senior Citizens. It costs only £ 2 and promises to be a really interesting and fun day! The bus will leave the Torrens Hall on 19 May 2010 at 9.30am. Those wishing to go should contact any of the Doagh Village Community Association Committee members. Places are limited and will be allocated on a first come first served basis. See local posters for contact details.
All reports and photographs taken at any of the events or concerts held during this year, including the Irish Stew Night, can be seen by visiting the weblog at DVCA http://dvca.blogspirit.com . Those wishing to visit the site to do not have their own computer should ask someone with access to the internet to let them use their equipment. They could also visit the local Library where they can use the computers free of charge. It's not a complicated process. Do not let this put you off! Someone will guide you through the steps required.
Details of next year's program will announced within the next month or so. These will also be posted on the blog.
The DVCA chairman, Mr Leith Burgess expressed his delight that more and more people were coming out to support the events. "Many have been requesting that additional events be organized" said Leith, "The matter will be discussed at the next meeting DVCA. The Association would be delighted to step up the number of events provided that they are well supported by the local community."