21 September 2011
Back to the Classroom for Doagh!!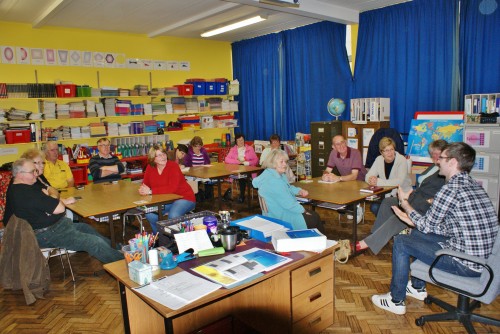 Doagh Village Community Association, in preparation for the forthcoming Doagh Ancestry Project, has launched the first of its computer skills courses for the over 50's.
The Doagh Ancestry and Heritage Project will post a significant amount of local history and other interesting information online for those interested in learning more about Doagh's rich heritage and for those attempting to enhance their own geneological projects and studies of local family history. People will also be able to contribute to this interactive process by providing local information and personal accounts of their own. Although the Doagh Ancestry Project will produce occasional papers and publications from time to time, there will hopefully be much more information available on the internet, through its dedicated website.
In order that more people will be in a position to access this fantastic online resource, DVCA in conjunction with support from Doagh Primary School and Newtownabbey Borough Council, has begun the first of its 12 week IT skills courses to boost people's confidence and knowledge of computer use. The principal of the school, Mr B Thompson, firmly believes that being placed at the heart of the Doagh community the school should be used more by the community to enhance the quality of life in the village. The building lies empty most evenings after school and could be available to provide a positive and valuable resource.
As there is already a significant waiting list of students, DVCA is determined to continue to try to further meet this growing need. There is therefore another course planned for the spring of 2012. Details will be announced within the next month or so. Anyone interested in participating should contact Alice Andrew or Bob Adams from the Association.